5 Tips Before Using Drones in Dubai
Feb 1, 2018 Admin
Who doesn't want a drone? That is a legit question now considering that the past few years have been booming for the drone industry. Manufacturers such as the famous DJI, known for their commercial drones, as well as other established names like SenseFly, Yuneec, Aeryon Labs and Parrot have been continuously releasing their respective models. And they are not stopping now.
However, as much as we want to use drones for simple photographs to complex full-blown productions, drone use is still being questioned both for safety and privacy. If you Google latest drone news, we guarantee there is at least one drone-related accident.
In Dubai, the GCAA has categorized any form of aviation to be covered under Federal Act No. 20 of 1991 - a 25-page document stating everything from the airspace territory to confiscation of unauthorized aviation equipment to imprisonment and fines. Drones in Dubai are allowed but strictly regulated.
5 Tips Before Using Drones in Dubai
Any vehicle capable of being in the air, no matter what the size, is regarded as an aviation vehicle. Dubai, and perhaps any region in the Gulf, is very stringent with rules. The document highlights everything from safety, penalties and consequences for not following the rules. Sure, flying a drone is fun and exciting. But being penalized and imprisoned is not our ideal way of being grounded.
2. Know the fly and no-fly zones
You have your drone charged up, you are outside and all you have to do is turn it on and go, right? Wrong. Drones in Dubai are regulated to what we call fly and no-fly zones. According to the DCAA (Dubai Civil Aviation Authority), a particular hotel has been victim to drone crashes for the past year because people did not know that the radio frequency cannot travel due to the size of the hotel.
How to know where? Here are your options:
And lastly, check out this map:
The basic premise is no flying near, around and over airports for obvious safety reasons. Additionally, no flying over residential areas as well.
3. Register your drone
Bought your drone and ready to fly? Hold up. You need to have your drone registered. Drones in Dubai are strictly monitored for safety purposes. Most recently, the DCAA has introduced a tracking device to be put on registered drones so they can be monitored by authorities. Don't forget your operator training certificate that you can get from SANAD Academy.
GCAA Registration can be found on this link and DCAA registration you can check out on this page.
4. Commercial flyer? You need permits and insurance in case of an accident.
Before doing aerial projects for your clients, it is required by law to acquire permits from the General Civil Aviation Authority (GCAA), Dubai Civil Aviation Authority (DCAA), Ministry of Defense (MOD), and if you plan on taking aerial photos and videos you will have to get a permit from Dubai Film and TV Commission (DFTC) as well.
We understand that drones themselves are very expensive. But as with anywhere in the world, damaging government property or causing injury could rack up the fees even more. As of October 2017, the Dubai Police in partnership with the DCAA, has made insurance mandatory for all commercial flyers. Any flying object is considered a risk: first, with the object itself and second, the area where it is flying.
Current premiums are high at Dh 1,750 with a minimum liability coverage of Dh 3.67 million. This ensures that commercial flyers are protected because let's face it, demarcations of fly and no fly zones are easy to put on paper but not in the air.
5. Respect privacy
Flying drones is a fun hobby and a profitable business. It's exciting and you get to see the best views without ever leaving the ground. But all over the world, drones have touched issues of privacy. Being aerial has its benefits for those using it especially for commercial purposes but it does not exactly hold true for those in the private sector. Dubai, for that matter, is still very conservative as compared to the rest of the world especially with their culture.
Let's put it this way: Nobody would appreciate having something with a camera hovering over their roofs or by their window at any point in their lives. There is a reason why people hate paparazzi. So don't be an aerial version of them.
To sum it all up, here is a quick infographic for you too. Remember, flying drones in Dubai can be a fun and exciting experience but as will rules, we need to respect those rules to fully enjoy the experience.
For more information, don't hesitate to ask us via email. Happy flying!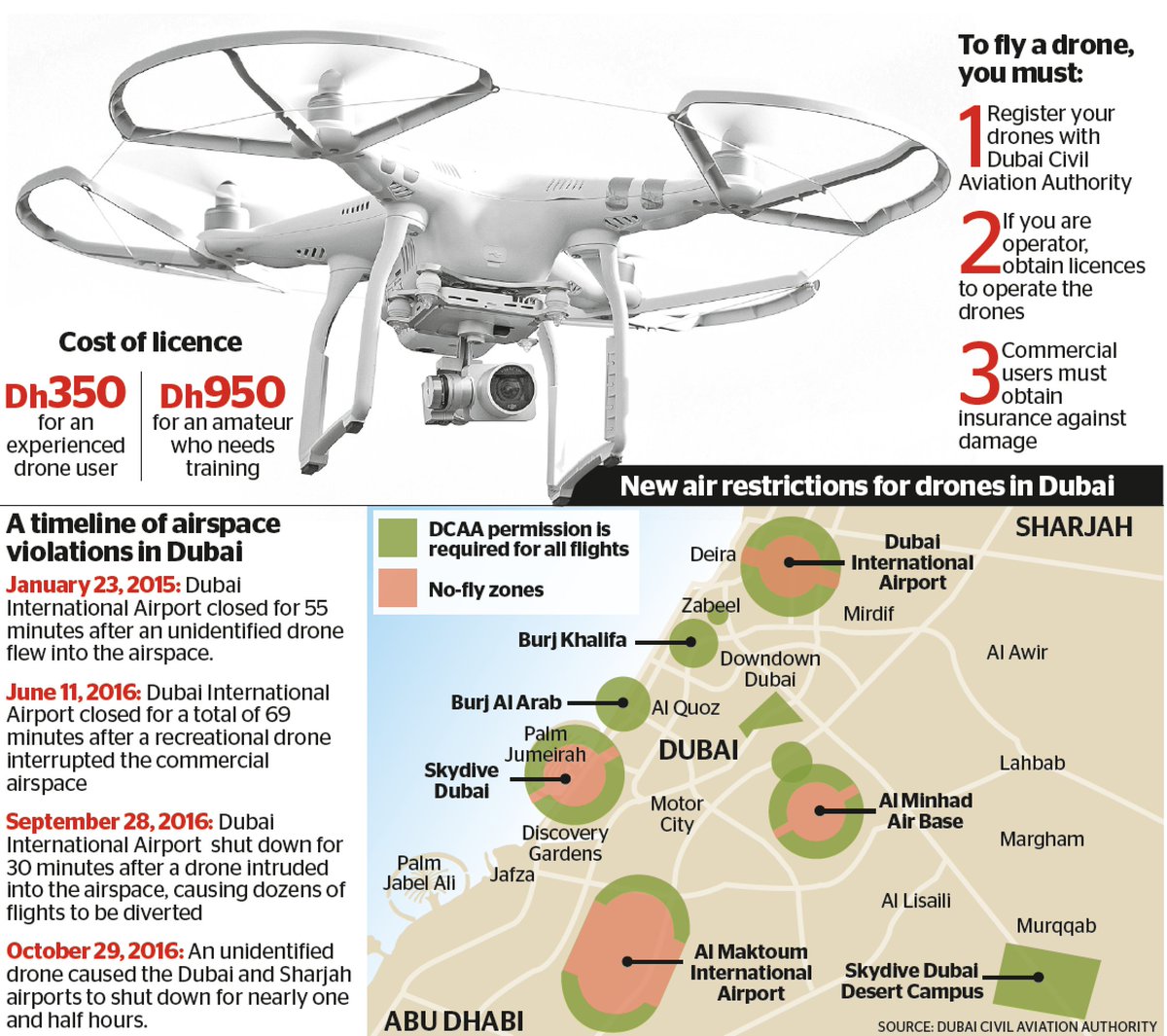 ---